Middle-Rhine Rock Climb
of user RW-TI-Boppard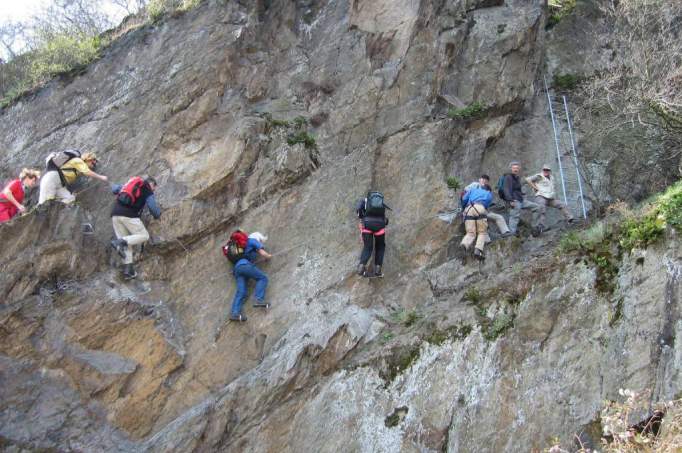 Suitable for kids
UNESCO World Heritage site
All information as overview
Type

Era

Origin

unknown

City

56154 - Boppard

E-Mail

Phone

06742/3888

Website

Geo coordinates

50.235818, 7.576259
The Middle Rhine Rock Climb –
A Challenge for the Walkers

The town of Boppard, together with the "German Alpine Club", Koblenz office, has put together a special challenge for walkers which is unique to this region. THE MIDDLE RHINE ROCK CLIMB is situated on the largest and most scenic bend on the Rhine.

This is part of the Rhein-Burgen-Wanderweg (Rhine-Castles-Walk) which is 107 kilometres long, starting from Bingen and ending in Koblenz, and is a more sportive alternative. Ten ladders, 130 foot holds and 180 metres of steel wire rope had to be mounted and assembled in order to offer our walkers possibilities that otherwise would not be possible in our low mountain ranges.

The climber has to overcome 11 climbing passages, or alternatively use narrow paths. After beginning the climb it is possible to avoid the more difficult sections by taking a walking path.

On the most part, the tour is challenging and walkers should only partake if wearing proper hiking boots or shoes. It is also necessary that the climber has no fear of heights and does not suffer from dizziness. The climb takes about 2 ½ to 3 hours.

Children, as well as all others who have no practice in rock climbing, must have proper rock climbing equipment. This can be rented at the ARAL petrol station which is situated next to the St. Remigius car park, near the entrance to the rock climb.

The tour will take you to the "Four Lakes View" high up on the hills from where you have a wonderful view onto the Rhine.
Visitor information
No information available
Plan your route
Mühltal, St.-Remigius-Platz
56154 Boppard
Germany
Start address: