Roman Mine Meurin
of user Vulkanpark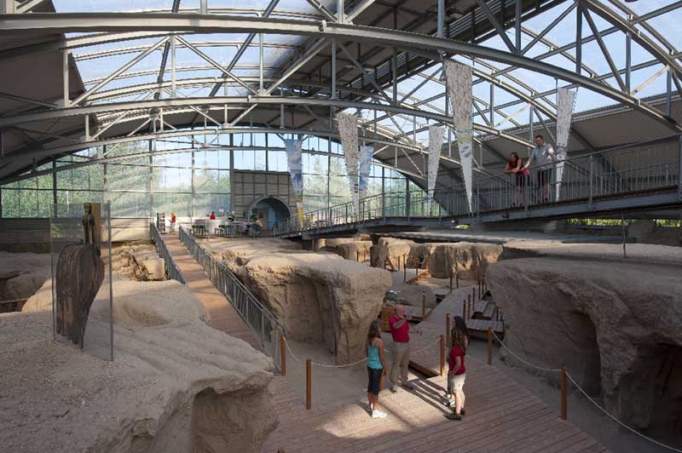 Suitable for kids
Dog friendly
Parking lots available
Indoor
All information as overview
Type

Era

Origin

2000

Membership

City

56630 - Kretz

E-Mail

Phone

02632-98750

Website

Geo coordinates

50.39625, 7.353333
The Romans excavated tuff at a depth of between 4 to 6 Meters. Modern excavation methods, which go significantly deeper, have destroyed most of the ancient quarries.
Fortunately the site at the Trassgrube Meurin near Kretz has been spared this fate. There are two places where the visitor has the opportunity to take a look at the underground workplaces of times gone by. Narrow galleries, poor light and dust laden air were all part of the daily routine for the miners. Only if you have been in these tunnels, can you imagine how life was for the workers in those times.
A small part – 55 x 45 meters of the old excavation site has been protected by means of a futuristic cantilever construction made of steel, glass and plastic. In this way a small remnant of the biggest Roman tuff excavation quarry north of the Alps can be protected from the effects of the local weather. (The volcano park projekt Roman mine Meurin belongs to the award winners of the European Union Prize for Cultural Heritage/Europa Nostra Awards 2003.)
Take the opportunity to experience a 2000 year old quarry.
Visitor information
No information available
Plan your route
B256
56630 Kretz
Germany
Start address: